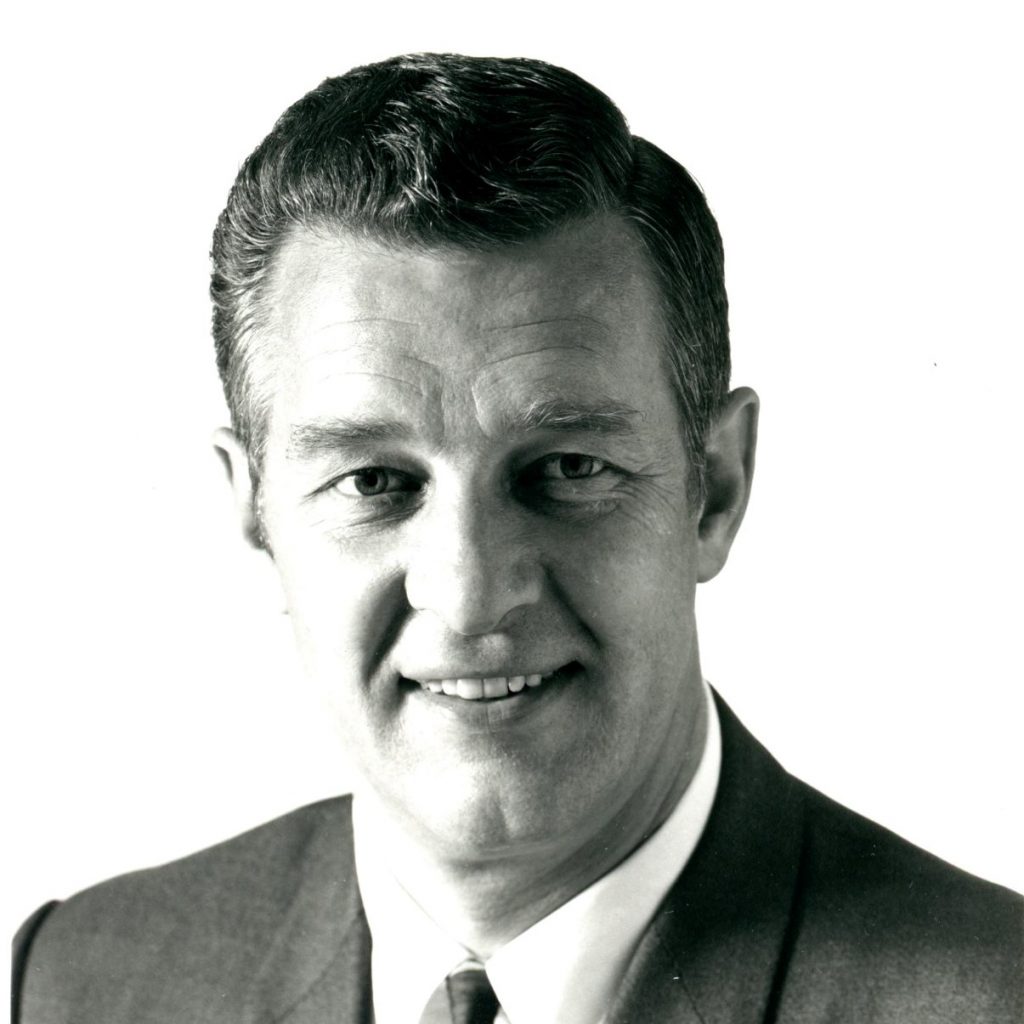 CLASS OF 1972
Floyd Kalber (aka "The Big Tuna") was born in Omaha on December 23rd,1924. Returning home after two years in the army during World War II he enrolled in the journalism department of Creighton University but dropped out after a semester to work at KGFW in Kearney. From there he went to a sportscasting position at a station in Peoria.
Floyd saw television for the first time in 1949 when he went to New York to cover Bradley University's efforts in the National Invitational Tournament. Impressed that video was the medium of the future, he quit his radio job and moved back to Omaha where the age of television was just beginning. In 1950, KMTV channel 3 in Omaha hired the 26-year-old Kalber as its first television newsman. Kalber worked as on-air talent, control room director, and studio production man. It was at KMTV that he mentored his most famous protege, Tom Brokaw.
His resourcefulness resulted in the only video of the 1951 Kansas City flood to be seen by viewers. Kalber borrowed a film camera from a local detective agency, flew to St. Louis in a SAC jet, then returned and persuaded rival WOW-TV to process his film, then aired the raw footage on KMTV.
In 1958, Kalber's coverage of the manhunt for mass murderers Charles Starkweather and Carol Ann Fugate brought him to the attention of NBC News executives.
In 1962 he was hired by WNBQ-TV Chicago (forerunner to WMAQ-TV), an NBC owned-and-operated television station. Initially, he served as Midwest correspondent for the NBC Nightly News with Chet Huntley and David Brinkley. Within three months he replaced Alex Dreier as the station's principal local anchor and the station's newscast quickly became Chicago's top-rated news program. It remained so until WLS-TV's introduction of the so-called "happy talk" news format in 1968.
In the late 1960s, Kalber also began doing five-minute news digests in early and late afternoon timeslots on NBC during which a national audience became familiar with his work. At various points in the 1970s, he anchored weekend broadcasts of the NBC Nightly News. In 1975, WMAQ-TV paired Kalber with the then-unknown Jane Pauley recruited from WISH-TV in Indianapolis. Pauley left a year later to become the news anchor for NBC's Today Show.
After moving from WMAQ-TV to the NBC television network in 1976, Kalber was one of the most visible broadcasters in the country while anchoring the news on Today, working with hosts Brokaw and Pauley. He left the program after Brokaw went to NBC Nightly News in 1981 and retired from NBC.
Kalber was later recruited for a return to Chicago broadcasting by station WLS-TV in 1984 where he anchored the popular 6 p.m. evening news broadcast until 1998.
Floyd Kalber died on May 13th, 2004 at the age of 79.