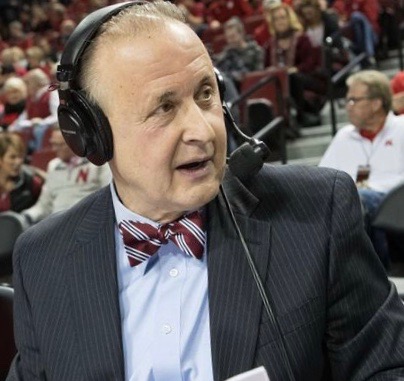 CLASS OF 2019
Kent Pavelka's name and voice have become indelibly linked to Husker athletics. He's known for choosing the right words on the fly to paint as clear a picture as possible for Husker fans tuning in.
Kent's interest in broadcasting was sparked in junior high school. Later while at the University of Nebraska Lincoln from 1967 to 1971, he worked at Lincoln's KFMQ and a few other Lincoln stations, juggling shifts between classes.
After graduating with a journalism degree in broadcasting, he landed at KHUB in Fremont as an announcer and sportscaster calling high school games.
Kent's Husker radio career soon started In 1974 at KFAB, doing football color commentary until replacing the retiring Lyle Bremser as the play-by-play man in 1984. Kent also took on play-by-play for Husker Men's Basketball from 1974 through 1996.
Pavelka continued to call Husker football and basketball games until 1996, spanning some of the most glorious years in Husker football history: National championships, near misses, off-field drama, and athletic department evolution. But after the 1996 football season, a new radio contract brought changes to the Husker athletics broadcast booths.
After a decade of various radio gigs in Omaha, Pavelka returned as the voice of Nebraska basketball in 2006 and has been calling Husker hoops Omaha's KKAR.
Kent stays busy during the off-season with Kent Pavelka and Associates, an advertising consulting company he and a partner co-founded in 2006.