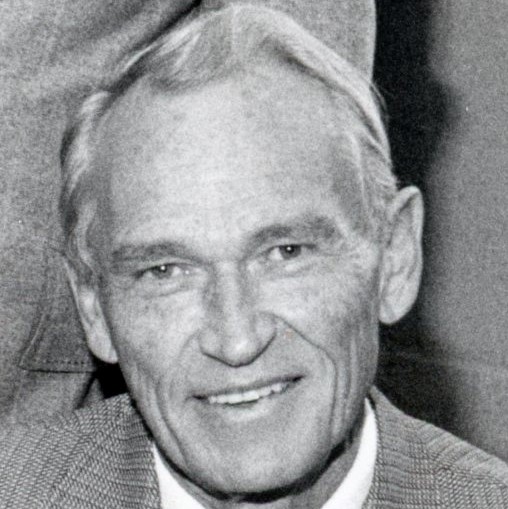 CLASS OF 1972
Robert E. "Bob" Thomas was the executive vice president and general manager of Norfolk's WJAG and its later FM KEXL from 1951 to 1985. From 1964 to 1985 he also served as executive vice president of KCOL AM/FM Fort Collins, CO. During the '60s and early '70s, his Beef Empire Group also included KVSH Valentine and KCSR Chadron.
Thomas was born August 6, 1918, in Omaha, Nebraska and his family moved to Norfolk in 1932. He graduated from Norfolk Senior High School in 1936 and completed some undergraduate work at Nebraska Wesleyan University in Lincoln. From 1939-41, and again from 1946-1948 he served in several different positions with WJAG AM as radio news editor, newscaster, salesman, sales manager, and assistant manager. He also spent time in sales at KWPC, Muscatine. Iowa and at KOWH/KOAD-FM in Omaha during this period. From 1948-1950 he was employed as a radio/television director for one of the region's leading advertising agencies in Omaha.
A World War II veteran, Thomas served over 20 years as an Army reserve officer. During the war, he graduated from Officer Candidate School and ultimately commanded the Short Wave Operations Division of the Armed Forces Radio Network in San Francisco from 1944 to 1946. AFRS broadcast to Alaska's Aleutian Islands, Central and South America, and the entire Pacific Theater.
Thomas twice served as president and secretary-treasurer of the Nebraska Broadcasters Association board of directors and served on virtually all standing committees of the Nebraska Broadcaster's Association at one time or another.
He received the NBA's first Lifetime Member Award in 1966, Outstanding Broadcaster Award in 1971, and was presented the Broadcast Pioneer Award by the University of Nebraska School of Journalism and Mass Communications in 2005.
Bob served as president of the Nebraska Associated Press News Association, was a charter member of the National Association of Broadcasters (NAB) Small Market Radio Committee, and was elected three times to the NAB radio board for District 10 (IA, MO, & NE). He participated on many other NAB committees.
Among his many state activities, Bob served as vice president and organizing director of the State Educational Television Commission.
Bob passed away on October 20, 2010.