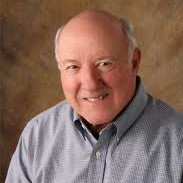 CLASS OF 2015
Chuck Stevens enjoyed a 52-year career on Lincoln radio and TV, most notably in local sportscasting.
Stevens came to Lincoln in 1960. He was just one year removed from high school but already had quite a resume, having worked at a radio station in his Sterling, Colorado hometown, another radio station in Hot Springs, S.D., and a TV station in Rapid City.
He came aboard at KOLN-TV as a staff announcer doing the nightly sports show, but he discovered TV wasn't his thing. He returned to radio going to KLIN in 1967. In 1972, he left KLIN for KLMS and spent 10 years there, primarily in sales.
From KLIN he moved over to KFOR where, as sports director, he would go on for the next 30 years to air more than 2,000 play-by-play broadcasts of area high school football and basketball games.
With the broadcasts of Nebraska football games tied up elsewhere, KFOR turned to area high schools and Nebraska Wesleyan University. Stevens became the voice of prep sports as well as an instrumental part of KFOR's popular morning show, running down the previous night's scores and highlights.
Off air, Chuck's leadership of the KFOR Sportscasters Club led to record growth where at times he secured over 60% of their sponsorships. Chuck was also a leading force in KFOR's commitment to provide ambulance service to all of the area high school football and soccer games.
Stevens is a three-time winner of the Nebraska Sportscaster of the Year award. In 2012, he received the Outstanding Community Service Award from the Nebraska State Interscholastic Athletic Administration Association and was inducted into the Nebraska High School Sports Hall of Fame in 2014.
Chuck retired from broadcasting in 2012.